PLEASE READ THE WHOLE THING BEFORE COMMENTING.
I get some extremely stupid comments on the
Adele-post
. I understand that all the butthurt fans need to get their frustration out, but come on! You can't seriously think that it's healthy to be overweight? Do you live behind a stone in the forest? Maybe on the moon? You should still be aware of the risks of obesity.
It's fine if you comment that you like heavy women better than skinny women, I don't care if you say you think Adele is prettier than I am, but
for the love of God
(saying that even as an atheist) it is not healthy to be fat! I have nothing against fat people, all I said in the post is that Adele is a hypocrite - which she is!!
I got the best comment so far just now... But I deleted it because it was stupid. Anyway, she wrote some questions because she wanted to proove that I'm "unhealthy": 1. Do you have sex outside your marriage? -
First of all, how is this something unhealthy? I'm not even married so I don't understand what her point is.
2. Do you smoke? -
No, I have never and will never touch a cigarette.
3. Marijuana perhaps? -
Oh dear, you should hear the anti-drugs speaches I make! ;)
4. Do you have any tattoos? -
No, I would rather get a face piercing than get a tattoo; and I would never get a face piercing (no offense to you who have piercings/tattoos, it's just not my style).
The only way I am unhealthy in, is that I love snacks such as ice cream, cookies, and chocolate.
And FYI, I have watched numerous documentaries about obesity and the fat-related diseases. I also know it's not healthy to be underweight. And honestly, what is considered the average body type these days was conisdered big 50 years ago! Stop having such complex and taking it out on me!
Be honest, which one looks the healthiest?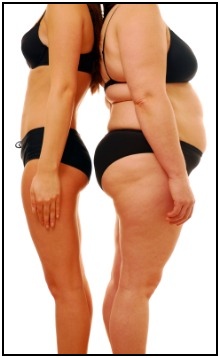 The most dangerous fat is the one on your tummy. It gathers around your organs. You might have a little bit of a tummy when you stand up, but when you lie down, you can see if your tummy fat is dangerous or not. The fat right under your skin is soft and will not be visible when lying down, while the dangerous kind is harder and makes your stomach big, even when lying on your back. From the floor to your stomach, should not measure more than 20 cm! If you measure more, you're at a great risk of fat-related diseases such as heart and vascular disorders, plus bad blood fats.
No, I'm not a doctor, but I'm very interested in this subject because it motivates me to stay in shape for the future. I do not want heart and vascular disorders, or diabetes, and I do not want to look like I do have them.
Heavy people who try to become healthier should get all the credit in the world! It must be very tough and you are real fighters! But the other ones, like the butthurt Adele fans, should learn something about obesity, and how dangerous it really is.
I do not hate Adele or fat people (that would just be silly), I'm just stating facts. Being overweight is unhealthy. That's just how it is. Being anorectic is, of course, unhealthy too (deadly as well)! But being naturally skinny is not. Big boned, small boned, just make the best of it!